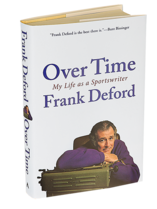 Perhaps no one defines the best that sports writing and profile writing can be than Frank Deford. Best known for his long and distinguished career at Sports Illustrated, Deford is a regular commentator on National Public Radio's "Morning Edition" and a correspondent on HBO's "Real Sport with Bryant Gumbel."
Deford has written 15 books, including the about-to-be-published "Over Time" on May 1. You can read an excerpt in this week's Sports Illustrated.
Evan Smith of "Texas Monthly Talks" interviewed Deford on May 6 at the University of Texas.