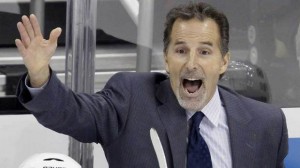 When I was a young reporter at the South Bend Tribune covering Notre Dame football, it was Ara Parseghian who taught me how to ask a good question. The great Notre Dame football coach did not suffer fools lightly. Questions ended in question marks and had to demonstrate that you knew what the heck you were talking about.
Still, I wouldn't call Parseghian impatient. He'd push you to rephrase the question — or at least that's how he handled me.
Now New York Rangers coach John Tortorella — that's something altogether different. You can just feel the tension at a Tortorella press conference. There are some pretty good reporters in the New York and national press corps covering the Stanley Cup playoffs, but to watch Tortorella answer their questions, you'd think they were all idiots. Larry Brooks? Jay Greenberg? Stan Fischler? Idiots? Uh, don't think so, Torts.