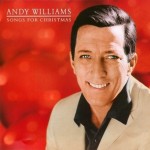 When I was a kid, I loved listening to and watching the "Andy Williams Show" on NBC. The variety show, one of the last of the breed in the mid-'60s, was a throwback to the early days of television and a less confrontational America.
A lifelong Republican, Williams made an exception in 1968 when Bobby Kennedy ran for president. Williams' support mattered.
Andy Williams died Tuesday night at age 84 after eight decades of wonderful, soul-soothing music. Yet another piece of my childhood is gone. "Moon River" will never be the same.