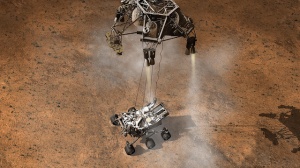 Unless you're living on the moon, you should be aware that there's a major space event tonight: the landing of of the NASA Jet Propulsion Laboratory Curiosity rover. This video covers the final 7 minutes to landing on the surface of Mars on Aug. 5 at 10:31 p.m. PT (1:31 a.m. Monday Aug. 6)
The video is called "Curiosity 7 minutes of terror."
Curiosity is a Mars rover launched by NASA on Nov. 26, 2011. The rover's objectives include searching for past or present life, studying the Martian climate, studying Martian geology, and collecting data for a future manned mission to Mars. It will explore Mars for two years.
Now is that cool or what?