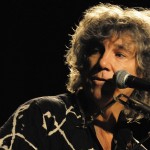 There are songs Rod MacDonald sings — "Every Living Thing," "The Aliens Came In Business Suits," and especially "American Jerusalem" — that resonate more in my memory, but this song, "Big Money," from Rod's latest CD, "Song of Freedom," has a fun (and very political) YouTube video along with it.
I go back a long way with Rod, to MacDougal Street in Greenwich Village in the '80s, and I treasure those memories listening to Rod and other members of the Musicians Co-op at the Speakeasy. Suzanne Vega and Shawn Colvin started there, but it's Rod's guitar and voice I can still hear.
OK, so I might as well post my favorite MacDonald song, "American Jerusalem." Love the guitar.
And if you want a real folk song, there's "The Death of Victor Jara."